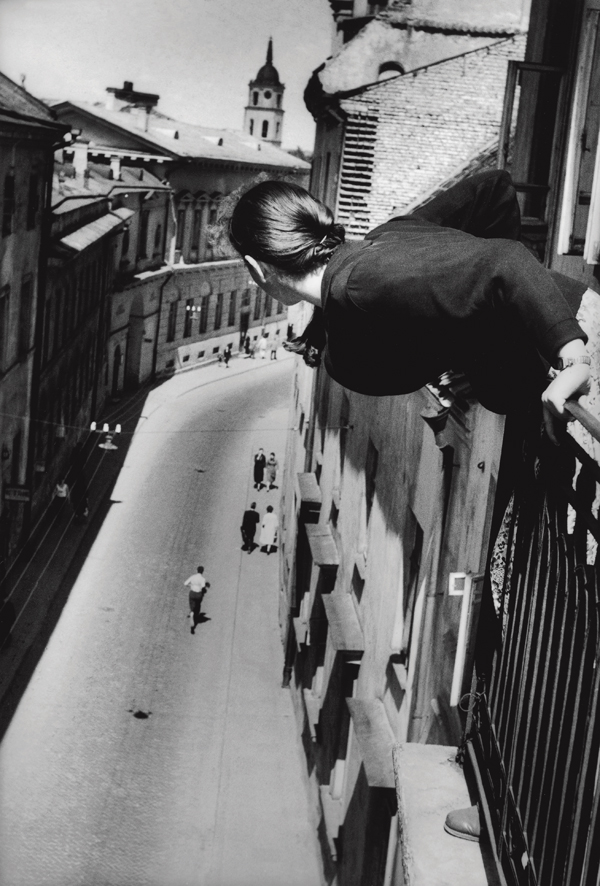 Daily Life Archives 1965 – 2012
Auch in einer immer globaler werdenden, immer schneller sich verändernden Welt, sind der Mensch selbst und seine Grundsituationen, Konstanten geblieben. Es gibt immer noch reiche und arme, glückliche und unglückliche, einsame Menschen und von Erfolg verwöhnte. Noch immer ist der Kontakt von Mensch zu Mensch, das persönliche Kennenlernen der Ausgangspunkt für das Akzeptieren und Verstehen fremder Länder und Kulturen. Denn jeder Mensch hat eine Kathedrale in sich (Antanas Sutkus), hat seine eigene Lebensgeschichte, die keine pauschale Betrachtung zulässt. Man muss sie nur sehen und entdecken.
Der litauische Fotograf Antanas Sutkus interessiert sich fast ausschließlich für Menschen. Dabei bleibt er ein zurückhaltender Chronist, der sich Zeit nimmt für seine Motive, den entscheidenden Augenblick (H. Cartier Bresson) abwartet oder die Geduld hat zu warten, bis sein Gegenüber ohne Pose offen und frei in die Kamera blickt. 1939 in Kluoniskiai, Litauen, geboren und in Vilnius lebend, musste er sich in der Sowjet-Zeit auf die Menschen seiner Umgebung beschränken. 1965 besucht Jean Paul Sarte Litauen, als Teil des Programms war ein Besuch in Nida vorgesehen. Nur Sutkus erhielt von Sartre die Erlaubnis, ihn zu fotografieren. Es entstand sein wohl bekanntestes Foto: Jean Paul Sarte als Rückenansicht einsam in einer Düne der kurischen Nehrung, als wanderte er durch die Wüste. Erst in den 70er Jahren konnte er reisen, nach Ungarn Jugoslawien, Italien und Finnland.
Bei Sutkus scheint jedes Foto ein Augenblick in einer langen Geschichte, der gefrorene Moment in einem bereits laufenden Film zu sein. In einem Hauseingang steht ein Mann, zieht an seiner Zigarette und schaut in die Kamera. Er ist gerade auf dem Sprung, man meint den dunklen Plan in seinem Kopf zu sehen. Das einsame Mädchen blickt uns an, hintergründig lächelnd, wer weiß, was sie vorhat. Der alte Mann sitzt an der Straße auf einem Stein, blickt in die Ferne, noch voller Energie, doch mit verlorenen Illusionen. Junge Frauen und Kinder fotografiert er häufig, von Ihnen lässt er sich bezaubern und seine Fotos fangen diesen Zauber ein.
Die litauische Kuratorin und Kunstkritikerin Raminta Juraneite schreibt über die Fotos:
Sie scheinen voll von Lauten und Gerüchen zu sein. Es ist keine inszenierte, aber auch keine Reportagefotografie. Antanas Sutkus studiert und analysiert den Charakter oder die Erscheinung des entscheidenden Augenblicks.
In der Sowjet-Zeit waren Bilder armer, kranker, einsamer Menschen öffentlich nicht gestattet. Viele seiner Fotos mussten unveröffentlicht bleiben. Jetzt fotografiert er nicht mehr, publiziert aber nach und nach aus dem Archiv. Die Galerie Albrecht freut sich, 33 ausgewählte Fotos zeigen zu können. Die Negative stammen aus den 60er und 70er Jahren, es sind ausschliesslich schwarz-weiss Aufnahmen.
Antanas Sutkus studierte in Vilnius Journalismus und ließ sich dort Ende der 60er Jahre als freier Journalist nieder. 1969 gründete er zusammen mit weiteren litauischen Fotografen die "Litauische Gesellschaft für Fotografie", deren Präsident er viele Jahre war. Er wurde mit zahlreichen internationalen Preisen ausgezeichnet. Seine Fotos befinden sich in vielen Museums-Sammlungen, in Vilnius, Paris, Helsinki, New York, Chicago, Boston, Zürich, Dresden, London, Odense, Stockholm und einigen mehr.
Even in an ever more global world that changes with increasing speed, humans and their basic situations have remained constants. There are still rich and poor people, happy and unhappy ones, lonely people and successful. The contact between people, a personal encounter remain the point of departure for accepting and understanding other countries and cultures. Because everybody 'has a cathedral in him' (Antanas Sutkus), his own life story that does not permit a schematic consideration. We just have to see and discover it.
The Lithuanian photographer Antanas Sutkus is interested almost exclusively in people. He remains initially a reserved chronicler who takes time for his motifs, waits for the 'decisive moment' (H. Cartier Bresson), or is patient enough to wait until his opposite gazes into the camera freely and openly. Antanas Sutkus was born in 1939 in Kluoniškia, Lithuania, and now lives and works in Vilnius. In Soviet times, he was forced to limit himself to people in his vicinity. In 1965, Jean Paul Sartre visited Lithuania, and part of his programme was a visit to Nida. Only Sutkus got Sartre's permission to photograph him. The result was his probably most famous photograph: Jean Paul Sartre photographed from behind, lonely in a dune of the Courland Spit, as if he were wandering through the desert. Only in the 1970s could begin to travel, to Hungary, Yugoslavia, Italy, and Finland.
With Sutkus, every photograph seems like a part of a long story, the frozen moment in a film that has been running for a while already. A man stands in a building entrance, drawing on a cigarette and looking into the camera. He is about to leave, and it seem as if we could see the dark plan in his head. The lonely girl looks at us, smiling enigmatically, who knows what she is planning. The old man sits by the street on a rock, looking into the distance, still full of energy, but without any illusions. Sutkus frequently photographs young women and children, he is enchanted by them, and his photographs capture this enchantment.
The Lithuanian curator and art critic Raminta Juraneite writes about these photographs: 'They seem to be full of sounds and smells. These are not staged photographs, but neither are they photo journalism or documentary photography. Antanas Sutkus studies and analyzes the character or the appearance of the decisive moment.'
In Soviet times, pictures of poor, sick, lonely people were not allowed in pubic. Many of his photographs had to remain unpublished. He has stopped taking photographs, but he now publishes pictures from his archive from time to time. Galerie Albrecht is pleased to be able to show 33 select photographs. The negatives of these black-and-white photographs are from the 1960s and 70s.
Antanas Sutkus studied journalism in Vilnius, where he settled himself as a freelance journalist at the end of the 1960s. In 1969, he established together with other Lithuanian photographers the 'Lithuanian Association for Photography', and her served as its president for many years. He has received numerous international awards. His photographs are in many museum collections: in Vilnius, Paris, Helsinki, New York, Chicago, Boston, Zurich, Dresden, London, Odense, Stockholm, and others.