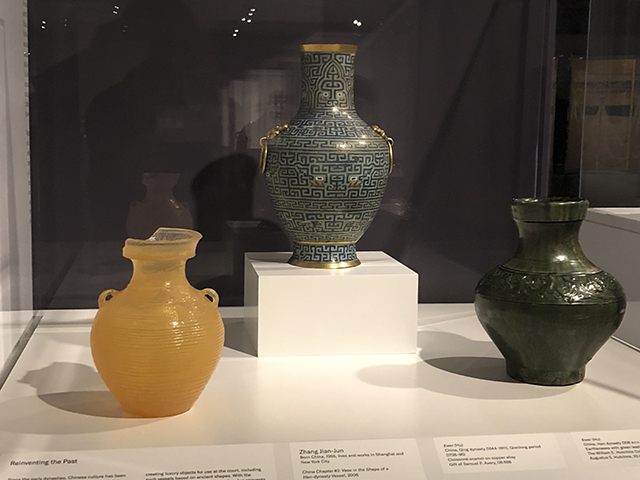 Zhang Jian-Jun was born in 1955 in Shanghai. He graduated from the Shanghai Theatre Academy's Department of Fine Arts in 1978 and moved to the United States in 1989. Currently, Zhang is a professor at New York University Shanghai. He lives and works in both Shanghai and New York City.
Zhang began to pursue abstract painting in the 1980s. He expresses his personal perspective on humankind and the universe through the integrity of language and constantly explores the existence of the ontological status. His work displays a great sense of belief and understanding of Oriental style.
Zhang's Existence series typifies 'rationalistic painting,' a movement of Chinese avant-garde art that appears after 1985. 'Rationalistic painting' is also a branch of Yi Pai, where artists employ squares, circles, dots, and lines from traditional Chinese ink painting to depict the existence of the relationship between the material and universe. 'Rational' refers to concept and contemplation. The artists use loose and reserved brushstrokes to illustrate Oriental cosmology and existentialism. In 1986, Zhang Jian-Jun created his oil painting Humankind and Their Clocks, in which he painted people from different races staring at the universe with implications of humankind being confused by the immensity of space-time. This painting has greatly impacted many of his contemporaries. Zhang furthered his studies in the United States in the 1990s and has since shifted his focus to installation art. Much of his work tries to explore the complicated relationships between different cultures, essentially between traditional Oriental and contemporary culture.
The artist's work is included in major collections such as the Brooklyn Museum, New York; San Francisco Asian Art Museum, California; M+ Museum, Hong Kong; Guangdong Museum of Art, China; Shanghai Art Museum, China; and Yuz Museum, Shanghai, China.
Zhang Jian-Jun has held solo exhibitions in New York, Germany, Japan, Singapore, and China, including at the Shanghai Art Museum, Harvard University, Guangdong Museum of Art, and Pace Prints in New York. Group exhibitions include Myth/History II: Shanghai, 1980s: Jian-Jun Zhang's Artwork (1978–88) (2015), Yuz Museum, Shanghai; Ink Art: Past as Present in Contemporary China (2013), The Metropolitan Museum of Art, New York; Wu Ming, Form is Formless: Chinese Contemporary Abstract Art (2011), Pearl Lam Galleries, Shanghai; Yi Pai: Thirty Years of Chinese Abstract Art (2008), Madrid; Flowing River: 30 Years of Chinese Oil Painting (2005), National Art Museum of China, Beijing; International Arts Festival Dusseldorf (1995); China Modern Art Exhibition (1989), Beijing; and '83 Experimental Painting Exhibition (1983), Fudan University, Shanghai.
Zhang received an Asian Cultural Council Fellowship, two Pollock-Krasner Foundation Grants, a New York Foundation for the Arts Fellowship, and more. He was Assistant Director and Head of the Curatorial Department of the Shanghai Art Museum (1986–89) and has participated in the International Curatorial Program at MoMA in New York.
Selected publications include the retrospective catalogues Water: Zhang Jian-Jun and Zhang Jian-Jun: Vestiges of a Process, as well as Contemporary Brush Strokes: New York Artists from China. Zhang's works have also appeared in art history books, including Chinese Contemporary Art History andChinese Painting: 250 Years. His art has been covered in ARTnews, Art in America, Art Forum, Asia-Pacific Art, The New York Times, and many other international publications
In painting, photography, installation, and video performances, Zhang Jianjun reflects on the rapid transformation of Chinese urban landscapes and cultures. For one installation, Zhang planted a giant ink stone within a pool of water—mimicking Chinese grotto stones—around which a black lake of ink formed. In others, Zhang added handmade forms to existing buildings in Shanghai in order to humanize them. For Vestiges of a Process: Shikumen Project (2008), the artist painted a water-based image in the site of a half-torn-down building complex in Shanghai; the image, which depicted the building's former appearance, was designed to fade, mirroring the structure's transience. Best known for his large-scale installations, Zhang also produces abstract ink-on-paper paintings that express influences from both the Chinese tradition of ink and landscape painting and Western abstraction.
Das Grundelement in der "China Chapter"-Sammlung, ist ein antikes Gefäß – ein Element traditioneller chinesischer Kultur – es repräsentiert nicht die zum Stillstand gekommene Vergangenheit, sondern unsere sich immer verändernde Gegenwart.Im Jahr 2006 entdeckte Jian-Jun Zhang ein Keramik-Gefäß aus der Han Dynastie (200 v. Chr. – 200 n. Chr.), das in der Stadt Yi Xing, Provinz Jiang Su, an die Erdoberfläche kam, nachdem es sich Hunderte von Jahren in einem unterirdischen Grab befunden hatte.Er veränderte die antike Keramik, indem er ihre traditionelle Gestalt mit zeitgenössischen Formen verband und das Ergebnis in Silikon goss.
Seine Arbeit bezieht Zeit ein, Zeit ist das Werkzeug, das die ursprüngliche Erscheinung und Funktion des Gefäßes ständig wieder neu formt. Sie erlaubt es auch den verschiedenen Generationen der Menschen auf das rohe Material, das Ihnen die Geschichte überliefert hat, zu reagieren und es zu erklären. Die ursprüngliche Form und Funktion des Gefäßes sind nicht dauerhaft, sie tragen vielmehr die Zeichen immer wieder anderer Einflüsse und sind auf diese Weise Teil einer noch nicht beendeten Geschichte.
The basis of each work in the "China Chapter" collection is an antique vessel – an element of traditional Chinese culture – that represents not a static past, but our continuously changing present.
In 2006, Jian-Jun Zhang discovered a Han Dynasty era (200 BC – 200 AD) ceramic vessel that resurfaced in the city of Yi Xing, Jiang Su province, after centuries of underground burial. He then altered the ancient ceramic by fusing traditional form with contemporary shapes, and cast it in silicone rubber.
His work incorporates time as a tool that continuously reshapes the original appearance and function of the vessel. Far from only altering form or texture of the ceramic, time also allows different generations of people to explain, and to respond to, the raw material of history. The original form and function of the vessel do not remain permanent, and instead bear the marks of ever-changing influence as part of unfinished history.