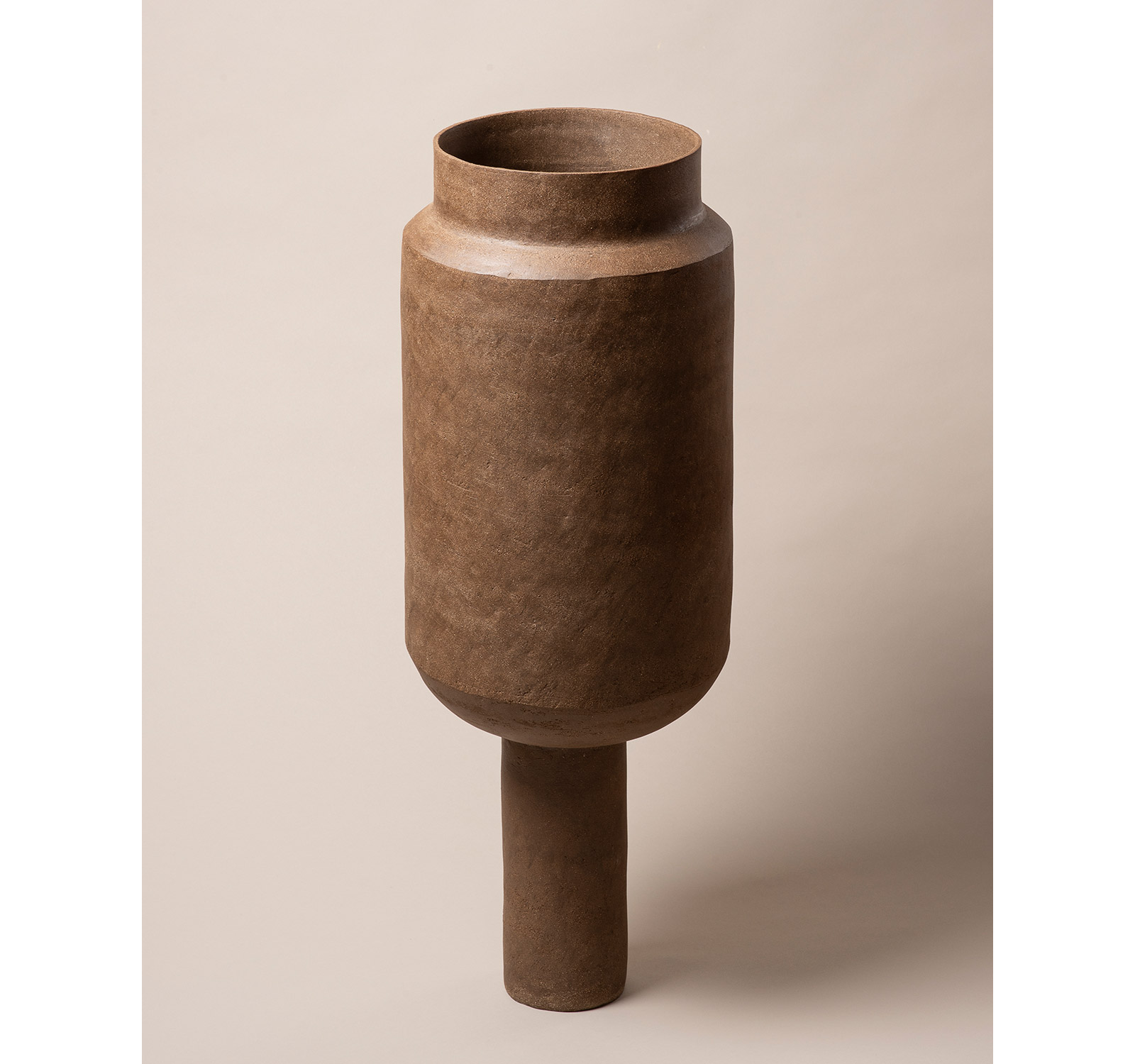 Wenn die Keramikerin Sylvie Enjalbert Ihre Vasen und Gefäße baut, knüpft sie an eine lange Kulturgeschichte an. Vielleicht gibt es keine andere Kunstgattung in der die Frage um Stabilität so zum Ausdruck kommt wie in der Keramik. Das Material erscheint delikat, die Formen aber haben sich über die Zeit kaum verändert. Bei Sylvie Enjalbert sind es die hinzugefügten Details, die den zeitlosen Formen eine neue Richtung geben. Die schlichten unglasierten archaisch anmutenden Vasen stehen wie eine Primaballerina auf schmalen hochgezogenen Fü.en, Schalen werden exzentrisch gebaut und verlieren die Statik. Auf der Seite liegend gehen sie in eine bewegliche Position über. Es sind Kunstwerke, nicht mehr für den Gebrauch bestimmt.
Sylvie Enjalbert (*1973) wird regelmäßig eingeladen, ihre Werke in Japan, Südkorea und China auszustellen, wo sie auch die Möglichkeit hatte, als Gastkünstlerin zu arbeiten. Das Ariana Museum Genf zeichnete sie im letzten Jahr für ihr Gesamtwerk aus, insbesondere für die letzten Werke, die ihre tiefe Verbundenheit mit ihrem inneren Selbst widerspiegeln.


When the ceramist Sylvie Enjalbert constructs her vases and vessels, she continues a long cultural history. Perhaps no other artistic genre provides as much room to explore the question of stability as does ceramics. The material appears delicate, but the forms have hardly changed over time. With Sylvie Enjalbert, it is the added details that give the timeless forms a new direction. The plain, unglazed, seemingly archaic vases stand like a prima ballerina on feet drawn upwards; bowls are eccentrically constructed and lose their statics. Lying on their side, they transition into a mobile state. They are works of art, no longer meant to be used.
Sylvie Enjalbert (*1973) has been regularly invited to show her artworks in Japan, South Korea, China, where she also had the opportunity to work as a resident artist. The Ariana Museum Geneva rewarded her last year for the entire work and especially for the last creations reflecting the deep connection she has with the inner self.