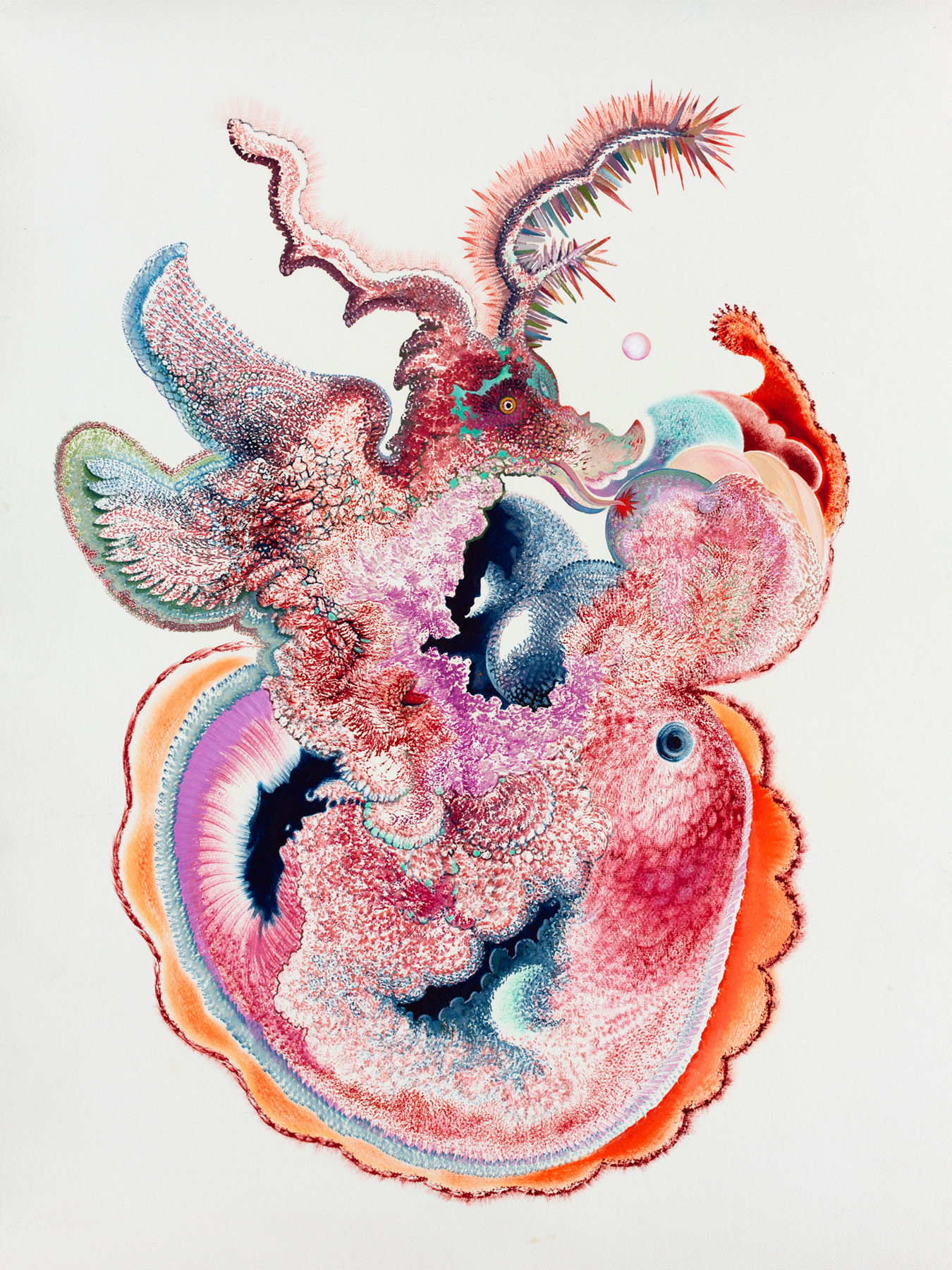 Holcovas Werk ist im weitesten Sinn der Art Brut zuzurechnen. Ihre farbintensive Malerei und Zeichnungen entstehen intuitiv und erinnern an Surreales. Die Phänomene der Metamorphose und des archetypisch Weiblichen prägen das Werk. Empfängnis, Geburt, Entfaltung, Reife und Tod, aber auch die sich ständig widerstreitenden Kräfte von Eros und Thanatos, Licht und Dunkelheit oder Zärtlichkeit und Grausamkeit – durch die Verwandlung angetrieben wird.
Veronika Holcova (*1973 in Prag) studierte von 1993-1999 an der Akademie der Schönen Künste in Prag. 2000 erhielt sie das Stipendium des Egon Schiele Zentrums, Cesky Krumlov, 2002 das Schwellenmätteli Stipendium, Bern. Sie stellt international aus. Ihre Bilder und Zeichnungen befinden sich in öffentlichen und privaten Sammlungen, wie der Tschechischen Nationalgalerie, der CaVu Cheb, sowie Sammlungen in Kanada, der Schweiz, Italien, Deutschland, dem Vereinigtes Königreich, der USA und China. Die Galerie Albrecht zeigt ihre Arbeit seit 2005.
Holcova's work can be classified as Art Brut in the broadest sense. Her intensely colored paintings and drawings are created intuitively and are reminiscent of the surreal. The phenomena of metamorphosis and the archetypal feminine characterize the work. Conception, birth, development, maturity and death, but also the constantly conflicting forces of Eros and Thanatos, light and darkness or tenderness and cruelty – by which transformation is driven.
Veronika Holcova (*1973 in Prague) studied at the Academy of Fine Arts in Prague from 1993-1999. In 2000 she received the scholarship of the Egon Schiele Center, Cesky Krumlov, in 2002 the Schwellenmätteli Scholarship, Bern. She exhibits internationally. Her paintings and drawings are in public and private collections, such as the Czech National Gallery, CaVu Cheb, as well as collections in Canada, Switzerland, Italy, Germany, the United Kingdom, the USA and China. Albrecht Gallery has been showing her work since 2005.